09/14/2022
ATTORNEY SPOTLIGHT: Clint D. Cadwallader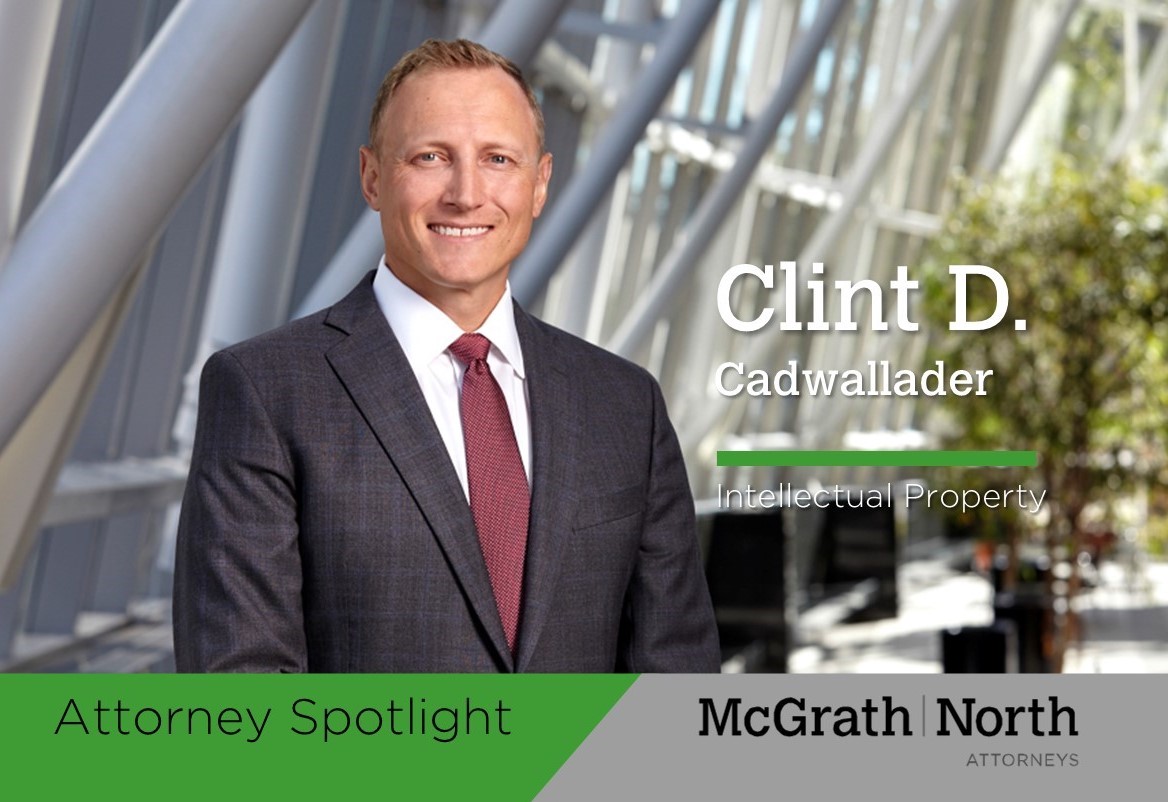 Clint D. Cadwallader leads McGrath North's Intellectual Property practice. He is also part of McGrath North's Recruiting Committee, which is responsible for the firm's regional recruiting efforts.
Clint's Work
Clint concentrates his practice on intellectual property law and technology transactions, but also has broad legal knowledge of corporate and real estate law. He represents a wide array of businesses and individuals, both domestically and internationally, with an emphasis on trademark and copyright prosecution, intellectual property licensing, and technology transactions.
By combining his expertise in intellectual property with his broad business and corporate experience, Clint is able to provide practical creative strategies and solutions that help clients protect and maximize value in their intellectual property rights throughout the entire life cycle. His extensive experience protecting trademarks nationally and abroad helps clients develop and strengthen their brands, for both mature and emerging companies in a range of industries.
Clint also works with clients to acquire, develop and exploit intellectual property assets, advises clients on the business and transactional aspects of intellectual property, and assists them with litigation and pre-litigation protective measures.
Clint's professionalism and years of effectively partnering with clients has resulted in his recognition in Chambers, a leading lawyer ranking service, and Best Lawyers of America.
Clint graduated with honors from the University of Nebraska with both his undergraduate and law degrees. He distinguished himself in law school by being selected Executive Editor of the Nebraska Law Review. To further prepare himself for his legal career, Clint served as a law clerk to the Honorable Paul D. Merritt, Jr. and the Honorable Robert R. Otte. He is admitted to practice in multiple states including Nebraska, Iowa and Colorado.
Outside the Firm
Clint is a strong believer in the importance of giving back to his community and profession. He was selected for the year-long Leadership Omaha program and the Nebraska State Bar Association Leadership Academy. He has served on multiple non-profit boards, most recently as the board secretary and executive committee member for Holy Name Housing Corporation, which provides quality affordable housing in Omaha and surrounding communities. He also is President of the Advisory Committee for NSBA's Find-A-Lawyer Program.
Lastly, but most importantly, Clint enjoys spending time with his wife and three kids, including as a youth sports coach for his kids' soccer and baseball teams.