April 14, 2014
McGrath North Attorney Jim Powers Inducted as Fellow of the Nebraska State Bar Foundation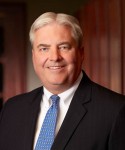 McGrath North is pleased to announce that Jim Powers, Co-Chair of the firm's Litigation Practice Group, has been inducted as a Fellow of the Nebraska State Bar Foundation.
Nomination for the Fellows program is an honor that is given annually to 30 attorneys. The selection is based on multiple criteria including the integrity and character of the individual, dedication to improving the administration of justice and a leader of the legal profession recognized by colleagues.
Powers is a highly regarded trial lawyer whose practice focuses on all types of litigation important to businesses. Jim's practice includes the representation of many of the top financial and agribusiness companies in the Midwest.
With his installation, Powers joins 14 other McGrath North attorneys – A. Stevenson Bogue, Robert J. Bothe, James P. Fitzgerald, William F. Hargens, Lee H. Hamann, David L. Hefflinger, Dean G. Kratz, J. Terry Macnamara, Robert D. Mullin, Jr., Nicholas K. Niemann, Terrence D. O'Hare, Jeffrey J. Pirruccello, and Roger W. Wells – as a Fellow of the Nebraska Bar Foundation. In addition to being a Fellow, Mullin currently serves as Assistant Treasurer of the Nebraska Bar Foundation.
Powers started with McGrath North in 1982 as a law clerk and has been a shareholder in McGrath North since 1986. He is also a member of the firm's Board of Directors. He has been listed in Best Lawyers® since 2012 and is listed in Great Plains Super Lawyers (Business Litigation) and Chambers USA: America's Leading Lawyers for Business.