12/02/2022
ATTORNEY SPOTLIGHT: Rachel C. Meyer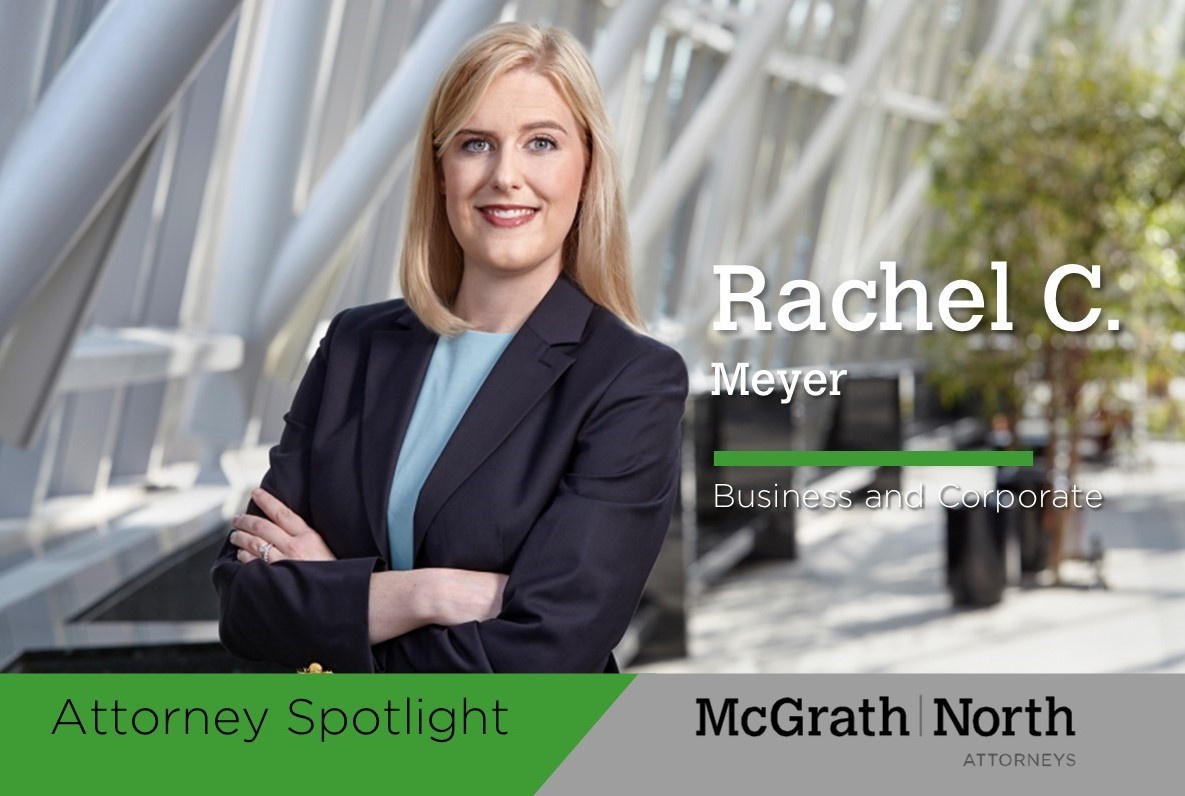 Rachel C. Meyer is a member of McGrath North's Business and Corporate practice group.
Rachel's Work
As part of that team, Rachel represents individuals and companies in a broad range of business matters, including entity formation and structuring, mergers and acquisitions, contract negotiation, regulatory compliance and general corporate counseling. She enjoys working closely with clients to help them accomplish their business goals, tailoring legal advice and solutions to fit each client's operations.
Rachel has a distinguished academic background that supports her success in practicing law. After receiving her undergraduate degree from Boston College with honors, she went on to receive her Master's Degree from Dartmouth College. Thereafter, Rachel returned to the Midwest and received her law degree from Creighton University, graduating magna cum laude. While at Creighton, she was a member of its law review and received numerous academic awards.
Rachel is uniquely able to blend this success with her straight-forward, practical and hands-on style to effectively work with a broad range of business clients. She enjoys looking ahead to help clients prepare for upcoming changes, and frequently publishes on cutting edge developments.
In connection with her transactional work, Rachel works on all stages of the process from evaluating various transaction structures, negotiating letters of intent, conducting due diligence, drafting and negotiating transaction documents, and guiding clients through a smooth post-closing transition. She has been involved in a broad range of transactions including buy-side, sell-side, joint ventures, series' investment rounds, auction bids and sales all across a variety of industries including food, agriculture and commodities; outdoor advertising; energy; insurance; and technology/information services.
In her work supporting business operations, Rachel provides risk-based, practical advice when drafting, negotiating, and managing a variety of commercial contracts, from day-to-day operating matters to large, complex, strategic projects. She has experience in a broad range of business segments including agribusiness, commodities, cryptocurrency, energy, financial services, food, healthcare, insurance, manufacturing, transportation, and technology/information services.
Rachel also regularly counsels clients on Health Insurance Portability and Accountability Act (HIPAA) and data privacy compliance matters, including drafting, revising and negotiating business associate agreements and implementing HIPAA policies and procedures. She also performs breach analysis and assists in breach notification, as well as provides tailored HIPAA training to a variety of clients, including employers, TPAs, and providers.
Rachel helps clients navigate the legal rules and implications of social media and marketing, including compliance with consent requirements, drafting end user agreements for mobile apps and downloadable software, drafting, and negotiating website development and hosting agreements, and drafting website privacy policies and terms of use.
In addition, Rachel works with clients to ensure compliance with FDA regulations, especially with respect to labeling matters. This includes nutrient content claims, Nutrition Facts Panels and Supplement Facts Panels, health claims, basic food labels, structure/function claims, organic claims, allergen statements, and gluten free foods statements. She also works with clients on a range of other food law issues.
Outside the Firm
Rachel loves her precious time with her family, which now includes their two toddlers who are growing so quickly. In addition to volunteering within the community, she carves out time for tennis (and learning pickleball) and even just a bit of quiet peace while trying her hand at needlepoint creations.