01/08/2023
New Firm President Selected At McGrath North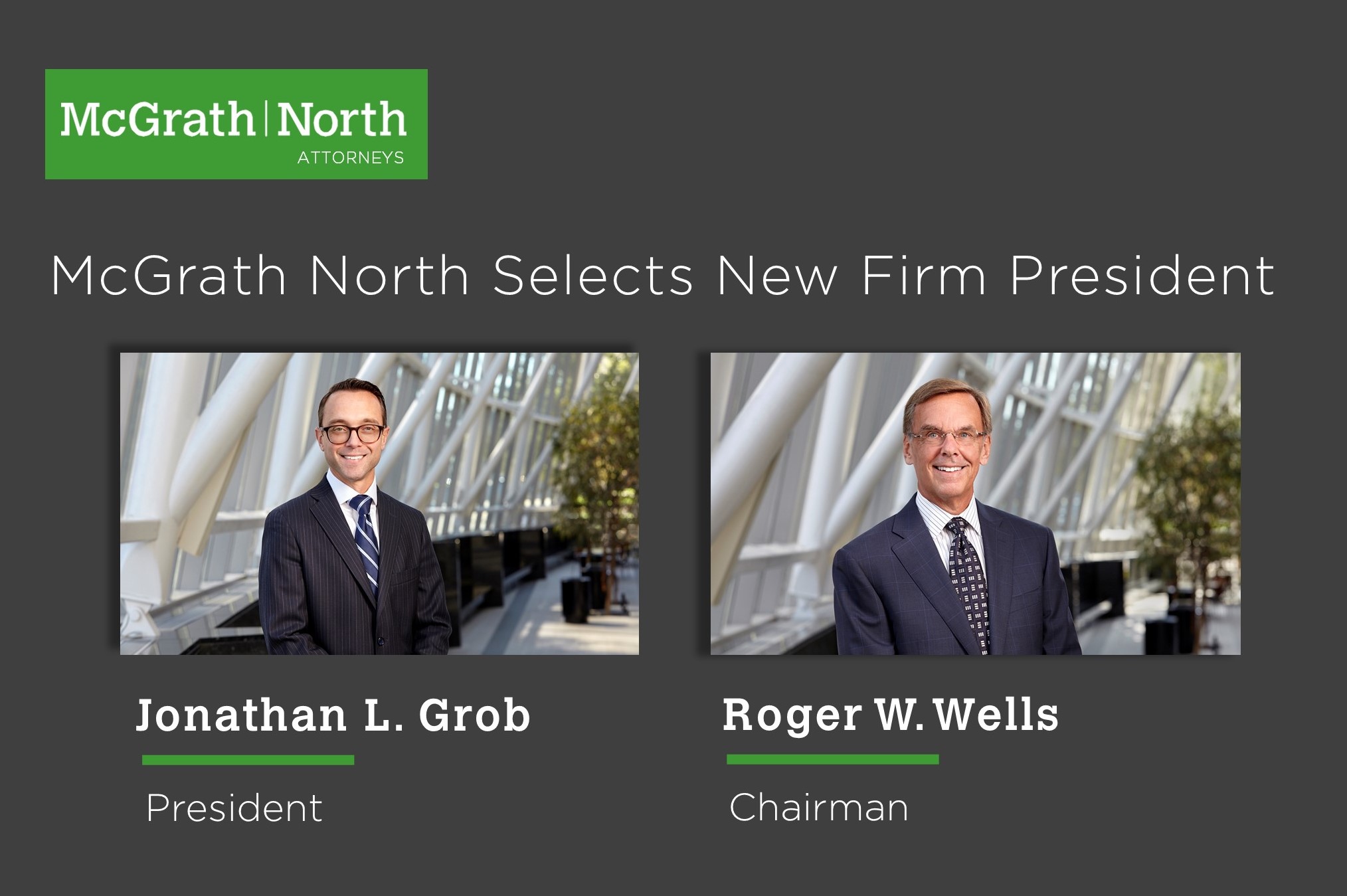 McGrath North has selected Jonathan L. Grob to serve as its new President of the firm. Roger W. Wells, who has served as the firm's leader since 2010, will transition to the role of Chairman and continue his full-time business law practice for key firm clients.
"This selection is part of our ongoing transformation to transition firm leadership to our next generation of outstanding lawyers," shared Roger Wells. "We have also added new members to our Board, new practice group leaders, and new chairs of key firm committees, all as part of this carefully planned process. This succession strategy has also intentionally advanced our genuine commitment to diversity, apparent in additions to our Board, practice group leadership, and committees."
Grob has been deeply entrenched in the firm's leadership, serving on the Board of Directors, as Executive Vice President of the firm, as leader of the firm's top-rated Tax, Trusts and Estate practice group, and on various firm committees and project teams. In this new role, he will continue his full-time practice and commitment to the clients he supports and serves. Grob is highly recognized by key national professional rating services for his excellence in all aspects of the tax, trusts and estate planning fields, is a Fellow in the American College of Trust & Estate Counsel, a former adjunct professor at Creighton University School of Law and a frequent lecturer on tax, estate planning, and other topics.
"I am humbled, and at the same time, very excited to assume leadership of our firm, joined by our strong team of fellow leaders spread across all of our practice areas," Grob said. "At McGrath North, we focus first and always on supporting our clients' success, serving them with excellence, creativity, integrity, and respect. And to do this, our firm management is firmly committed to continue building a talented, experienced, and diverse team of professionals and to support them so they succeed both professionally and personally."
For more information on Jonathan L. Grob, Roger W. Wells, and McGrath North, please visit www.mcgrathnorth.com.
About McGrath North Mullin & Kratz, PC LLO
McGrath North focuses first and always on Client Success. We have a talented team of over 70 experts who effectively and successfully collaborate with our clients, including small and mid-size businesses to Fortune 500 companies operating in a broad range of industries.
We judge ourselves based on the real-world value we provide to our clients, whether they are operating in the Midwest, across the country, or in business centers across the globe. We are fueled to achieve that success by a relentless concentration on Excellence.
To be our best, McGrath North is always transforming and investing in talent, technology, and leadership. While we are proud of our first 60 years of service, we are always innovating and recreating ourselves for the challenges ahead for our clients.
# # # #
Contact Information:
Brenda Jenny
Director of Business Development and Marketing
McGrath North Mullin & Kratz, PC LLO
(402) 633-6831
bjenny@mcgrathnorth.com
www.mcgrathnorth.com