October 07, 2018
Clint D. Cadwallader joins McGrath North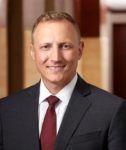 McGrath North is pleased to welcome Clint D. Cadwallader to the firm. Clint has practiced law in Omaha for over eight years and concentrates his practice in the areas of intellectual property, information technology, and real estate.
Clint has extensive experience handling a broad range of intellectual property and information technology matters including drafting and negotiating agreements related to software licensing and information technology services, trademark and copyright registration and enforcement, and intellectual property protection. He also counsels clients in a broad range of real estate transactions.
"Clint is a great addition to our law firm," said Roger Wells, President of McGrath North. "Because of his experience, Clint has developed great legal expertise along with the ability to effectively work with clients."
Clint received his J.D. from the University of Nebraska College of Law, with distinction in 2010. In law school, Clint clerked for the Honorable Paul D. Merritt Jr. and Robert R. Otte of the Lancaster County District Court. Clint received his Bachelor of Science in Criminology from the University of Nebraska -Lincoln, with distinction in 2006.