September 24, 2013
McGrath North Attorney Selected for Leadership Omaha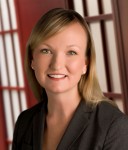 Abbey Moland is selected as a participant in the 2013 Chamber of Commerce Leadership class. Leadership Omaha is designed to develop Omaha's future leaders. Selection as a participant in this program is based on demonstrated community and professional involvement and leadership.
"Abbey is one of McGrath North's outstanding young attorneys and understands our commitment to both our clients and the Omaha community." said Roger Wells, President of McGrath North. "Her selection to Leadership Omaha is a recognition of her talents and accomplishments and her role as one of Omaha's future leaders."
Ms. Moland practices in the areas of labor and employment law and was a Fellow of the Nebraska Bar Association Leadership Academy for 2010-2011. She obtained her JD from the University of Iowa College of Law in 2007 and earned her B.A. from Saint Louis University, summa cum laude in 2004.