April 07, 2014
McGrath North Attorney earns LLM Degree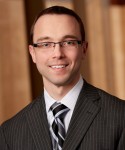 McGrath North, one of Nebraska's largest law firms, announced that attorney Jonathan L. Grob recently earned a Master of Laws (LL.M.) degree in Taxation from the NYU School of Law. Jon joins McGrath North attorney Matthew R. Ottemann in earning this distinction.
Mr. Grob is a shareholder at McGrath North and a member of the firm's Tax, Trusts and Estates Practice Group. Jon focuses his practice on all aspects of federal and state taxation, estate, gift and business succession planning, tax exempt entity planning, estate administration, executive compensation and corporate law.
"This is a great accomplishment for Jon." said Roger Wells, President of McGrath North. "The knowledge gained by Jon and Matthew through the LL.M. program is a great asset and resource for both McGrath North and our clients."
The LL.M. designation is an internationally recognized postgraduate law degree, indicating advanced specialized legal training; in this case in taxation. The NYU School of Law's LL.M. in taxation program is widely considered to be the strongest in the United States. Only a small number of Nebraska attorneys have achieved the LL.M. degree, two of whom practice law at McGrath North.
In addition to an LL.M. degree, Mr. Grob holds a Juris Doctor degree, with high distinction from the University of Nebraska College of Law and a B.S.B.A. degree, cum laude from the University of Colorado-Denver.