April 15, 2018
McGrath North Expands with New Attorney Hire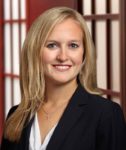 McGrath North is pleased to announce the addition of its newest attorney, Caroline E. Nelsen.
Ms. Nelsen joins McGrath North's Employee Benefits Practice Group and will assist clients with a wide range of legal and regulatory matters affecting employee benefit plans, including plan administration, design and implementation.
Nelsen is a 2017 magna cum laude graduate of the University of Notre Dame Law School and received her bachelor's degree, in Political Science and Hispanic Studies from Boston College. Caroline served as Executive Managing Editor of Notre Dame's Journal of Law, Ethics and Public Policy and currently volunteers as the Head Coach for Marian High School's Mock Trial Team and is a member of the Marian High School Board of Directors.
"Caroline excelled in law school and received great exposure to our practices and our clients while working as a law clerk at McGrath North during the past two years." said Roger Wells, President of McGrath North. "She has great enthusiasm that our clients will appreciate and is a valuable addition to the McGrath North team."