October 07, 2013
McGrath North Expands with New Attorney Hire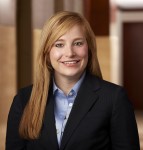 McGrath North is pleased to announce the addition of its newest attorney, Stacey A. Shadden.
Ms. Shadden joins McGrath North's Business and Corporate Practice Group and will assist clients with a wide range of transactional matters, including mergers and acquisitions, commercial contracts, business formation and general business planning.
Stacey is a 2013 magna cum laude graduate of Creighton University Law School and received her bachelor's degree, magna cum laude in Business Administration, Economics and Finance from Creighton University. Stacey served as Executive Editor and Lead Article Editor for the Creighton International and Comparative Law Journal and was on Creighton's National Moot Court Competition team.
"Stacey excelled in law school and did a great job while working as a law clerk at McGrath North during the last two years." said Roger Wells, President of McGrath North. "She has great enthusiasm that our clients will appreciate and is a valuable addition to the McGrath North team."