08/19/2022
PRACTICE GROUP SPOTLIGHT: Tax, Trusts and Estates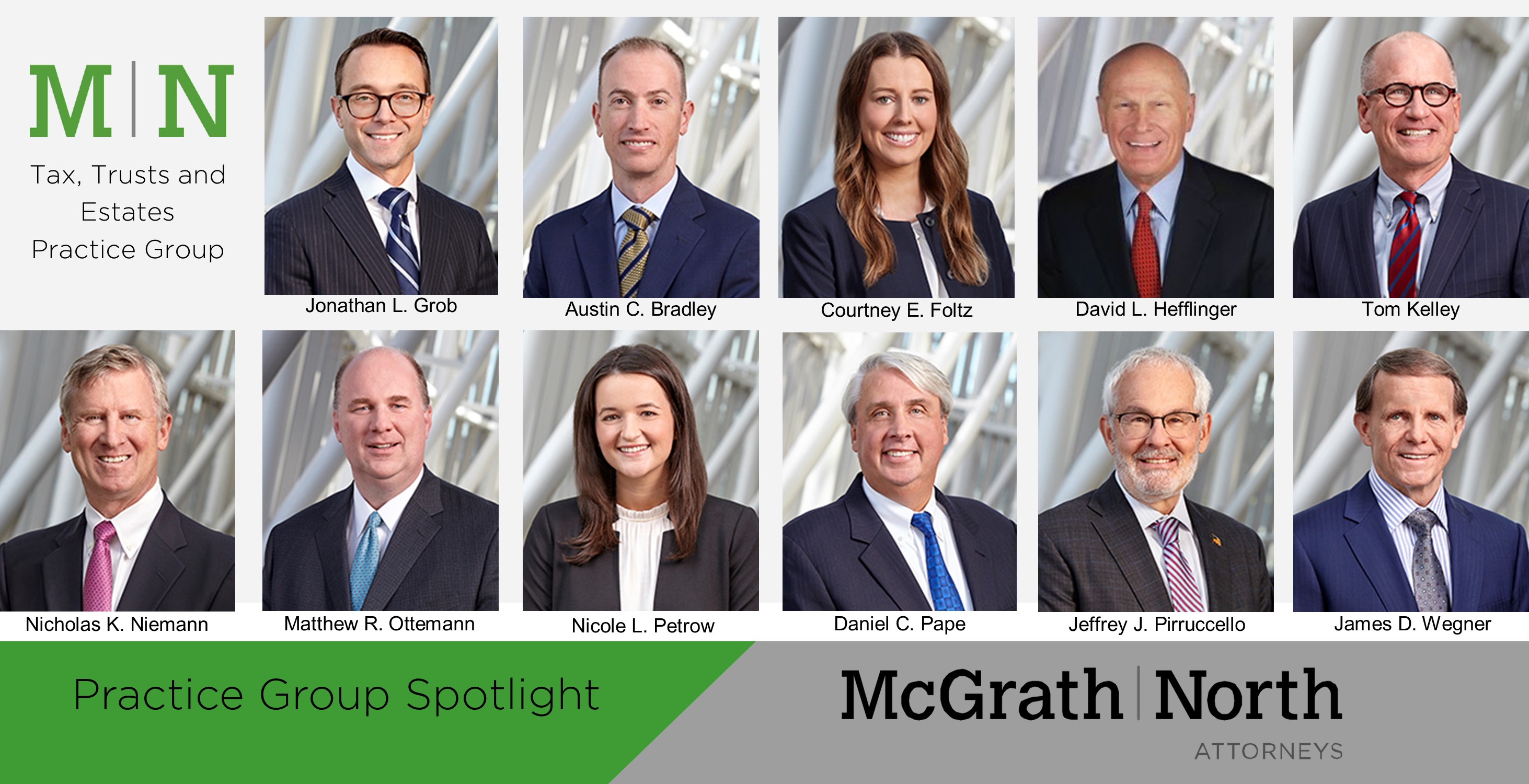 McGrath North's Tax, Trusts and Estates group is packed with market-leading experts ready to tackle the full range of challenges faced by private and public companies, closely held businesses, and families protecting the economic fruits of their hard work. Our teams experience has us, day one, prepared to advise companies on federal and state complex tax matters relating to operations and transactions lead closely held businesses and families through the complexities of wealth retention and transfer, structure company growth plans to maximize state and local incentives, and advise businesses on their plans for successful succession.
Chambers USA, the leading independent lawyer ranking service that relies on client and peer research, has recently given our group its top ranking in both the tax and private individual wealth categories, and it is the only Nebraska law firm with more than one lawyer receiving its top ranking in tax – McGrath North has four! In addition, team members are also regularly selected as leading lawyers by Best Lawyers in America and Great Plains Super Lawyers.
Even with all these accolades and honors, our McGrath North team always focuses on putting clients first by using our resources to achieve the goals of the families and businesses we are honored to represent. The team values its long-term relationships and takes the time to truly know and connect with our clients. And because of this deep commitment, McGrath North has worked to strategically build a team that can serve our clients for decades to come. Our team has experienced professionals at all stages of their careers, from seasoned statesmen to senior and mid-career shareholders to associates building their long-term careers with the guidance and mentorship of the team.
To meet the broad range of client needs, we have a team of lawyers to support businesses and high-net-worth families:
Jonathan Grob, Practice Group Leader and Board Executive Vice President
David Hefflinger, former Board Chair
Jeffrey Pirruccello, former Board member
James Wegner, former Board member
Nicholas Niemann
Daniel Pape, Board Vice President
Thomas Kelley
Matthew Ottemann
Austin Bradley
Courtney Foltz
Nicole Petrow
This team regularly presents and writes on complex tax, business succession and government incentives topics, and partners with CPAs and other professionals to educate business leaders, families and other lawyers on these complex matters. And beyond what you might already know or expect, they also:
teach in the Creighton University business program and Creighton University School of Law,
are members of the American College of Trust and Estate Counsel,
hold master's in law in Taxation from NYU, Georgetown University and the University of Alabama School of Law,
are Chartered Advisors in Philanthropy, holders of CPA certifications, and members of the Financial Planning Association,
use their experience and love of flying as an ATP rated pilot in advising aircraft owners and operations across the country,
write books on unlocking successful business models and leadership, as well as guide families through business planning and succession,
sit on international business leadership advisory boards,
have worked in family owned and operated businesses giving them real-world perspective on the challenges,
have gained invaluable legal experience and insights working with high-net-worth individuals and families in Silicon Valley and
are officers and members on a wide variety of community boards, giving back to the community they love.
Our Tax, Trusts and Estates practice group is proud of its many accomplishments and humbled to have the opportunity to partner with clients who could choose lawyers from anywhere in the country but instead choose our firm and these professionals.
For more information on McGrath North, please visit us at www.mcgrathnorth.com.