03/12/2020
McGrath North COVID-19 Response Team
March 12, 2020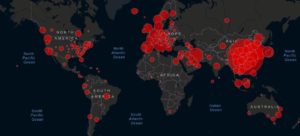 The novel coronavirus (COVID-19) outbreak is creating uncertainty and disruption around the world, and increasingly within the United States. To help support your business during this turbulence, McGrath North has assembled its COVID-19 Response Team which already has been assisting clients maneuver through a variety of these challenges.
While we hope the disruption slows, and ends soon, we are prepared to quickly assist you in managing key areas such as:
Protection of your employees and on-site independent service providers, and managing employee relations.
Guidance on disruptions in your supply chain relationships.
Management of your distribution channels and product flow to your customers.
Coordination and communication with your lenders and investors.
Insurance analysis and planning.
Mitigating commercial risks under available contract protection provisions.
Compliance with local, state and federal emergency guidances and declarations.
While we will be providing periodic substantive updates on issues important to your business, which will be available on our website, we encourage you to reach out to our Response Team to help develop strategic and practical management plans.
McGrath North's COVID-19 Response Team includes:
April Hook
ahook@mcgrathnorth.com
(402) 633-6813