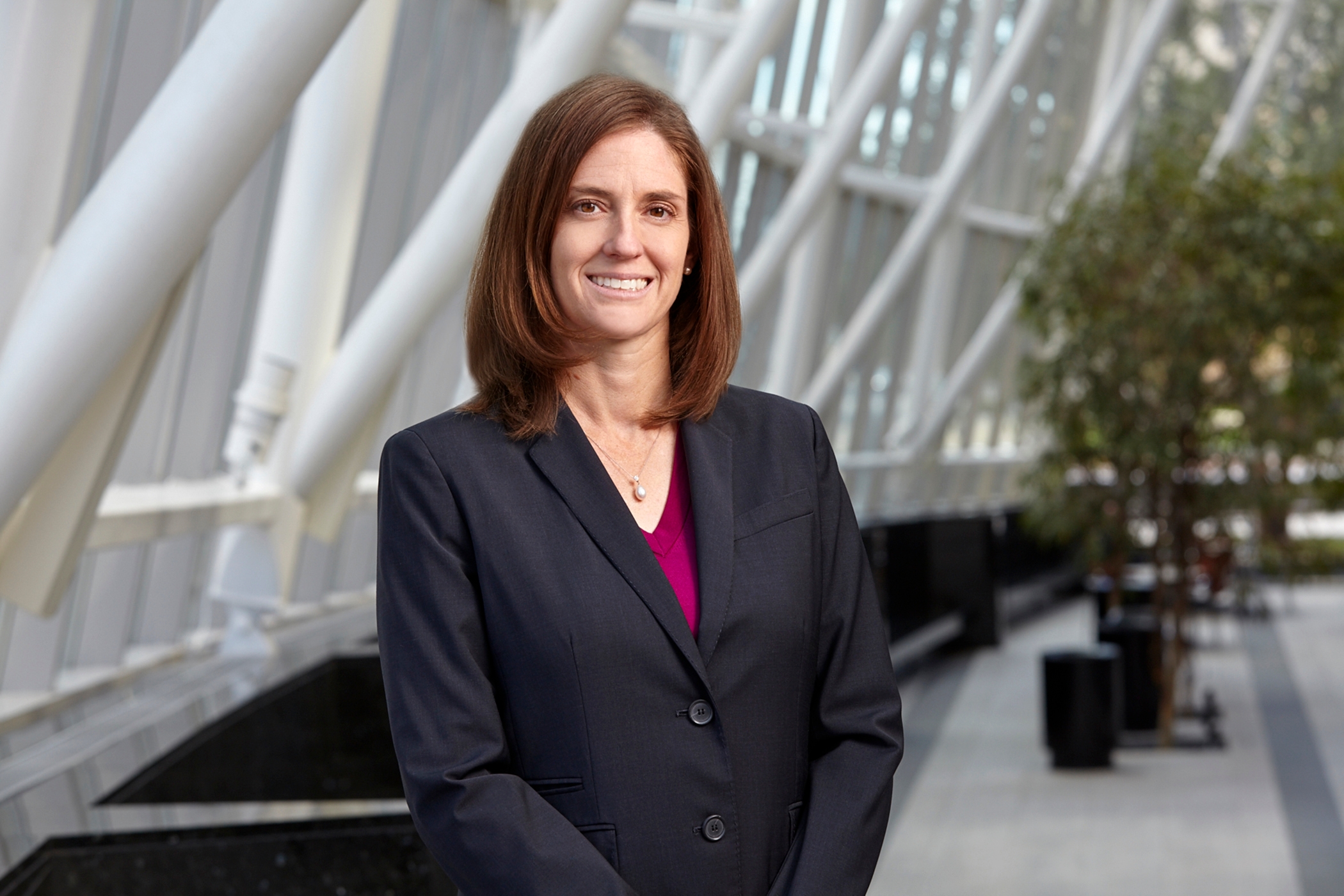 Lauren R. Goodman
Attorney
Chair, Bankruptcy, Restructuring and Creditor Rights' Group
Lauren's practice focuses on commercial litigation and the representation of creditors and distressed businesses in and outside of bankruptcy. She has a passion for tackling complex business issues by finding practical and creative solutions for her clients. Lauren leads the firm's Bankruptcy, Restructuring and Creditor's Right group.
---
Lauren's insolvency and bankruptcy experience includes representing creditors in a variety of complex commercial disputes, including the representation of large lenders and lien holders in the multi-million dollar disputes with borrowers and serving as debtor's counsel in chapter 11 bankruptcies and matters under the new Small Business Reorganization Act. Notably, Lauren has served as debtor's counsel in the largest bankruptcy case in Nebraska history. It is Lauren's work on behalf of both creditors and debtors that uniquely enhances her effectiveness in addressing her clients' needs. Her practical experience is bolstered by her prior work experience.
Prior to joining the firm, Lauren served as both a judicial extern for the Honorable Jeff Bohm, Bankruptcy Judge for the U.S. Bankruptcy Court for the Southern District of Texas and as a term law clerk for the Honorable Robert Martin, Chief Judge of the U.S. Bankruptcy Court for the Western District of Wisconsin. Both experiences afforded Lauren the benefit of understanding how bankruptcy courts operate and how the judiciary views and addresses bankruptcy matters. Further, prior to attending law school, Lauren worked as a Certified Public Accountant at a global accounting firm in Minneapolis, Minnesota. Her clients can be sure that her legal and accounting experience provide her with the knowledge to handle any type of case.
Lauren is also a member of the firm's commercial litigation group through which, over the last decade, she has litigated a variety of commercial and personal disputes, ranging from the successful defense of legal and accounting negligence claims to mass torts to claims involving freight broker liability. Her experience in this area includes all phases of litigation, including motion practice, discovery, trial and if necessary, appeal. It is this broad range of experience that guides Lauren's practice and supports her ability to handle the most complex legal issues for business of all sizes.
Education
University of Iowa College of Law

 (J.D., 2010)

University of Iowa

 (B.S. and B.B.A., 2005)
Admissions
Iowa (2010)
Nebraska (2011: Sustaining Member)
08/18/2022
In its newly released 2023 edition, The Best Lawyers in America® has recognized 44 McGrath North attorneys in the full range of specialty practice areas key to supporting businesses of all sizes across a broad range of industries, and 28 attorneys have been recognized for 10 years or more. Of these attorneys recognized based on peer-review surveys, seven were named "Lawyer of the Year." This honor is awarded to only one attorney with the highest overall peer-feedback for a specific practice area and geographic location.  
READ MORE
10/24/2022

McGrath North shareholder Lauren Goodman served as one of the small group of speakers at the Nebraska Banker's Association's Women in Banking Conference held October 19-20, 2022, which was attended by over 110 women from across the state of Nebraska. The conference focused on the theme of women empowerment in the industry.  
READ MORE
Publications
03/09/2021
With chapter 11 bankruptcy filings on the rise, all vendors should use this opportunity to evaluate the credit risks that their customers present. Short of terminating the relationship for nonpayment, there are some actions that vendors can take to minimize the risk of continuing to do business with a struggling customer. Below we discuss a variety of possibilities, including some that are not often used but can be very helpful in protecting a vendor's position.  
READ MORE
02/08/2021
With chapter 11 bankruptcy filings on the rise, all businesses are expected to begin feeling the impacts this year. This article provides a summary of significant changes to the bankruptcy code that lenders should be aware of as they navigate anticipated increased bankruptcy filings from borrowers.  
READ MORE
American Bankruptcy Institute
Nebraska State Bar Association
Iowa State Bar Association
Iowa Law Review, 2008-2009
Equal Justice Foundation, Treasurer, 2009-2010
Judicial Clerk for Chief Judge Robert Martin, Bankruptcy Court, Western District of Wisconsin
Certified Public Accounting Certificate
Listed: Great Plains Super Lawyers Rising Star (Civil Litigation, Creditor Debtor Rights, Bankruptcy) 2016-2022
Listed: "Best Lawyers in America", Bankruptcy and Creditor Debtor Rights / Insolvency and Reorganization Law and Litigation - Bankruptcy